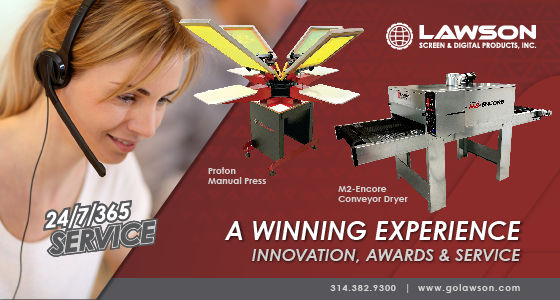 Lawson Screen & Digital Products, Inc
(Booth 841)
At Lawson Screen & Digital Products We Make It Simple for screen, DTG and specialty printers to succeed. Lawson manufactures manual and automatic screen printing presses, dryers, exposure systems, computer-to-screen (CTS) imaging devices, sinks, pre-treat sprayers and supplies for screen and digital printers. Lawson offers FREE SHIPPING on supply orders of $99 and a 24/7 support hotline. You Stand in Front of our Equipment, and We Will Stand Behind It!
DIRECT CAPITAL


(Booth 2530)
Direct Capital offers a technology-enabled financing platform that allows business owners to apply within minutes and often get approved within seconds. Along with their speed and convenience, Direct Capital offers low rates and flexible terms to fit any budget. To find out more, visit directcapital.com/ISS or call 877-786-5327.
NEXT LEVEL


(Booth 3650)
Cotton Raglan Tee
Introducing our Cotton Raglan Tee. Retro style with a modern fit and timeless comfort. Fine Jersey. 100% Combed Ring-Spun Cotton. 32 Single, 145g/4.3oz. Contrast raglan sleeves and bound neck. Side seamed. Available in 11 color combinations in XS-3XL.
THE M&R COMPANIES


(Booth 509)
M&R's patent-pending Starlight ASO (Adjustable Spectrum Output) uses three independently adjustable nanometer ranges to increase screen-exposure flexibility. Each range can vary light output from 0%-100%, and operators can increase or decrease gain (intensity) to best match each emulsion. Operators can also fine tune exposure intensity on sensitive emulsions or emulsion that expose very quickly.
Citadel Brands


(Booth 572)
AWD is one of the fastest growing and most exciting brands in Europe and is introducing its Just Hoods and Just Cool lines in the USA through Citadel Brands. With a wide selection of colors, styles and sizes to cover all segments of your promotional needs, check us out and find out why Citadel Brands will become your first choice in apparel!
RTP APPAREL


(Booth 1912)
RTP Apparel is the DTG Industry's most innovative new product that totally eliminates the need for pretreating prior to printing. The DTG Industry's FIRST and ONLY completely pretreated shirt reduces the amount of time and labor needed to successfully DTG print a garment. RTP Apparel comes in 9 different colors and sizes S – 3XL. For more information visit our website at www.rtpapparel.com.
COTTON HERITAGE


(Booth 1849)
We at Cotton Heritage are pleased to be part of ISS Long Beach show this year and we hope to see lots of familiar faces at the show as well as meet new attendees. We have great new products to check out this year such as the Raglan S/S Crew Tee and our new French Terry. Be sure to visit our booth at: #1849. For more information please visit: cottonheritage.com, or email us at: info@cottonheritage.com.
Anatol Equipment Mfg Co


(Booth 577)
Anatol specializes in custom solutions tailored to fit shops of all sizes. Anatol's lineup of technologically-advanced presses, dryers and more is designed to help you screen print with maximum speed, efficiency and reliability.